Photos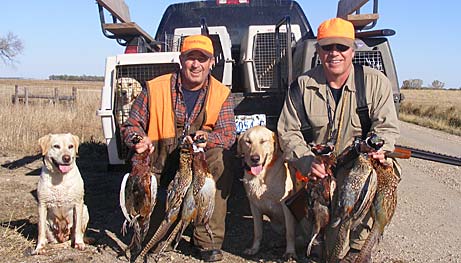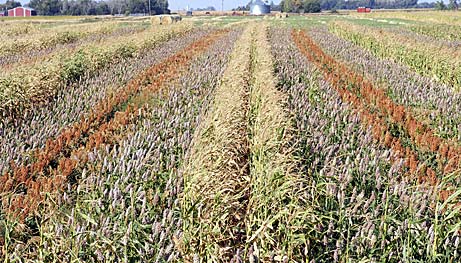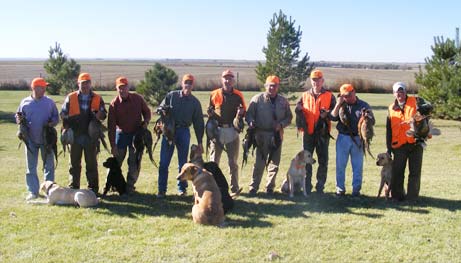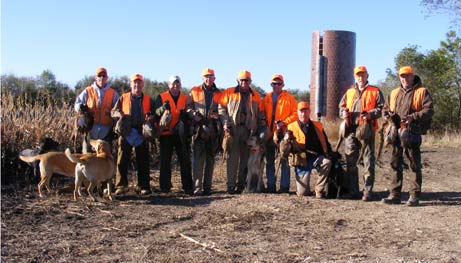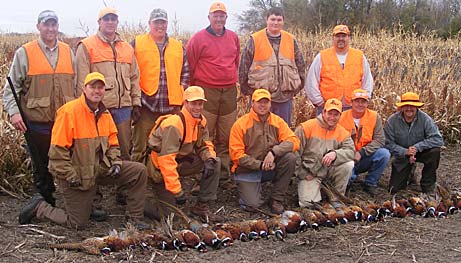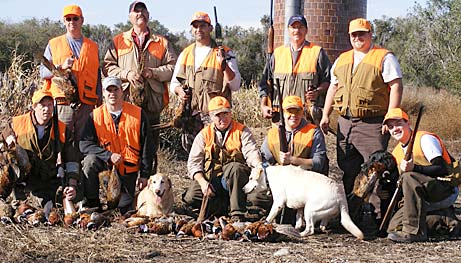 What they're saying...

2011 HUNT TESTIMONIALS:


Outstanding facilities, guides, food. No doubt a premier hunting experience.
Nash Hardy, Fuquay-Varina, NC 919-669-8477
Again, another great year. Good people, great food, very welcoming atmoshere and great hunting. Thank you Bill, Carey and staff.
Richard Ford, Pipersville, PA 717-926-3029
Things are wonderful. I wouldn't change a thing. Enjoyed the hunting and getting to know your loving family.
John Hines Jackson, TN
Had a great time. Don't change a thing. You all made me feel like a friend rather than a client.
Jim O'Neill Doylestown, PA 267-718-2801
Wouldn't change a thing. Great experience with a wonderful family! Three years in a row. See you next November.
Rodney Hines Jackson, TN 731-234-4292
Everything was first rate in my book. Use me as a reference anytime! My only complaint is that the bag limits are too low.
Royce Courtney Dallas, TX 713-748-9648
I waited years to go on a pheasant hunt and I certainly wasn't dissappointed. It was above and beyond what I expected. The entire staff makes you feel like they've always known you. It was a great experience.
Michael Gray Oklahoma City, OK 361-815-5397
This is our 2nd year hunting at American Wingshooting Lodge. The accommodations, guide service, and game abundance always excede all expectations. Looking forward to a 3rd year.
Skip Subber, Jr, Pen Argyl, PA 267-446-1762
It's perfect. Always very enjoyable. Wonderfull people. Wonderful place.
Kenneth Koontz, Louisburg, KS 913-558-5856
Still the best, top quality hunting and lodging experience for pheasant in the country. Great family hospitality, excellent food, and facility. Expert guides and always lot of great shooting.
Jeff Ellis Lake Quivira, KS 816-309-5768
Another great hunt, outstanding food and world class customer service. A great value for the money.
Tim Maag Lakeville, MN 618-799-6089
Fantastic operation. Thanks again.
Zach Anthony, Spring Hills, KS 785-218-1802
Very organized team. Great experienc on our 2nd trip to American Wingshooting Lodge. We enjoyed the trip down to the Missouri river.
Ron Walters, Whiteville, NC 910-445-6171
Had a great time. First class all the way!
Dallas Daley, Oklahoma City, OK 432-559-2741
Great hunts, hospitality, food and accommodations.
Rhone Sasser, Whiteville, NC
Trip was excellent.
Keith Powers, Downingtown, PA 484-844-0801
All is good. I enjoyed coming here for 3 years and alway have a good time.
Erik Lallum, PA 503-830-4117
Excellent facility for both hunting and relaxing.
Bill Schwartz, Leawood, KS 913-558-5526
Great trip.
Pat O'Toole Leawood, KS 913-708-4267
Brett Lang, Leawood, KS 913-908-5526