Photos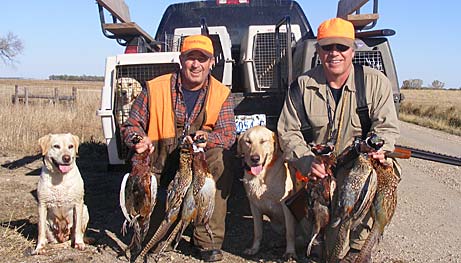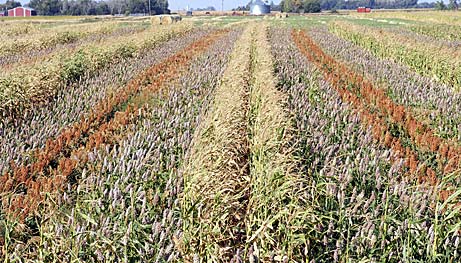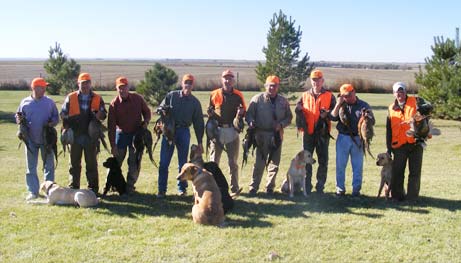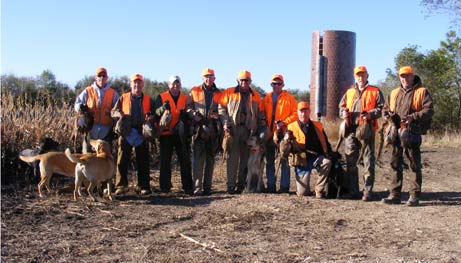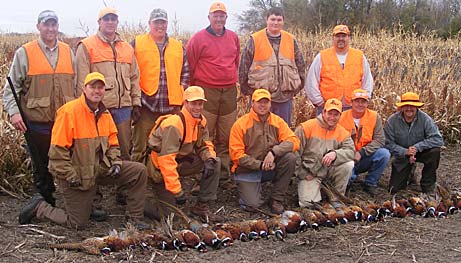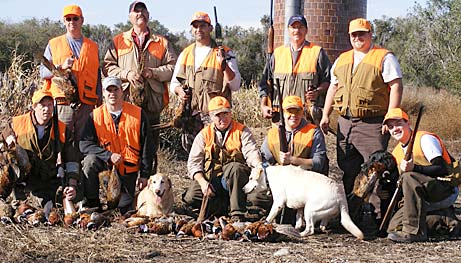 What they're saying...

2010 HUNT TESTIMONIALS:


This was my first trip to South Dakota pheasant hunting and it was far better than I ever expected. Thank you for the experience that I will never forget.
Mark Montgomery Scottshill, TN 731-614-7027
Best hunting experience I have ever had. Everyone is so hospitable. Food was great. Lodge is beautiful! Hunting was the best ever!! Can't wait to come back next year. Thank You.
Andrew Sencindiver Wayne, PA 215-783-0984
Everything was great including the guides, household staff, food. Accomodations were extraordinary( some lodge!!) Bird count is great.
Rhone Sasser Whiteville, NC 910-234-4342
Thanks Bill. We had a great hunt and wonderful time here. I would highly recommend American Wingshooting Lodge to anyone wanting a first class hunting experience. First class all the way!!!
Mike Wallace Vilonia, AR 501-514-4099
The lodge, the hunt, the food, the guides, the cooks, are the best. Everyone makes you feel at home. Plan on taking home a few extra pounds.
Joe Blanchard Crawfordville, FL 850-528-6848
My trip was wonderful. First class operation. Very one on one and personable. The food was great. Lodge was awsome and the hunting was super! Thanks,
Ned McAffry, AR 870-918-7816
Great Accomodations, great food, great hospitality. Lots of birds. Great guides. Keep up the good work.
Ron Walters, MD Whiteville, NC 910-445-6171
Bill, Thank You. This was a great trip and one not to be missed. Looking forward to seeing you and your staff next year!!
Rick Ford Pipersville, PA
The lodge is very comfortable with very nice furnishings. I enjoyed your entire staff and the meals were outstanding. The hunting was great but see if you can get the state to up the limit. Thanks
Tom Mann Vilonia, AR 501-428-7107
Guides were excellent. Dogs were good. Plenty of birds. Great accomodations. All in all an excellent experience.
Ed Canning Zachary, LA 225-301-0225
Justin and Tony are great guides. Wonderful hunt. Will return next year.
John Nichols West Monroe, LA 318-355-3197
Great experience! Tantastic hunting and exceptional service. I hope to hunt with you in the future.
Doug Sasser Hallsboro, NC 910-840-5409
Awsome hunting. Good guides and food. Very professional. Great experience for pheasant hunting.
Jamey Faulkner Smyrna, TN 615-828-6138
This truly was a perfect week for me. Don't change a thing. Thanks Bill for providing first class everything and making this the best hunting trip I have ever been on.
Johnny Johnson Jr. Deleware 302-632-8583
Enjoyed it very much. Justin, Tony, and Jess were good guides. Will come back.
Jim Peay Zachary, LA 225-405-2550
Everything was perfect! Thanks for a first class hunting experience.
Harry Geschwilm Monkton, MD 410-952-6936
Great hunting, good food, good guides. Thanks.
George Trappey III New Iberia, LA 337-519-9165
Great time. Beautiful country. Excellent accomodations.
Jamie Perry Henderson, TN 731-659-1882
Great hunt. Great guides. Great dogs.
Michael Musso Lafayette, LA 337-288-1765
Great hunt! Well run operation.
Craig Sasser Whiteville, NC 910-234-4340
Great time. More than I expected.
Jeff Armscost Upperco, MD 410-239-6022
Best outfit I have ever been on for pheasant. Great accomodations, food, guides and quality of birds. We were all very impressed and had a great time.
John Geschwilm Lewisville, NC 336-409-5492
First class job. Great hunting. Good food. Bill and Justin: you were the best to work with. Thank you again, my dogs love it up here.
Jim Anderson Dearborn, MO 816-341-0792
Beautiful lodge, good food, excellent service, and wonderful hunting. Great time!
Lynn Banta Peoria, IL 309-696-9101
The people are wonderful. Betsy, Jessica, Michelle, Justin were super nice people. Lots of pheasants. Guides very good to holler "hen or rooster". Dogs were very good. Lodge was very comfortable and the food was outstanding but the people made you feel like you were home.
Mike Blanchard Eau Claire, WI 715-579-8043
Great hunt. Good people.
Scott Weaver Elderberry, LA 410-982-5472
Great lodge. Plenty of birds. Excellent time.
Kelby Baskin Burlison TN 901-229-3361
One of the best hunts ever. The very best "camp" I have visited! Great host and guides.
Don Abaunza New Orleans, LA 504-914-6306
I had a great time and loved the facilities.
Howard Bockhoven Sanford, NC 919-770-6161
Teriffic hunt. We are coming back next year with hopefully a bigger crowd.
Richard Abaunza New Orleans, LA 504-220-7309
Everything was very nice. Enjoyed it very much.
Grant Murphy 205-529-4848
This was my first time pheasant hunting and it was a great hunting experience. Can't wait to come back.
Larry Bradley Arlington, VA 703-943-8150
The lodge was great. Food was great. Hunting was super. Good people as cooks and guides. Very friendly.
Tom Blanchard Kansas City, MO 573-584-3241
Had a great time and already looking forward to returning next year. Don't change a thing.
Jim O'Neill 267-718-2801
Great accommodations. Great food. Awsome hunting! Great guides and dogs.
James O'Neill Quakertown, PA 215-290-8518
Everything was first rate. Don't change a thing.
Ernest (Skip) Subbe Jr. PenArgyl, PA 267-446-1762
Had an excellent trip. It was great. Everything is done at a superb level. The hunting all the way to the lodge.
Tim Kannmacher